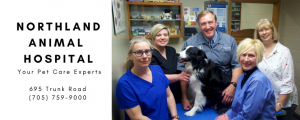 At Northland Animal Hospital, we strive to keep your pet in their best health. We are committed to maintaining a compassionate and ethical hospital for both you and the pets you love.
Northland Animal Hospital invites you to schedule your next veterinarian consultation with us. Our veterinarian, Dr. Craig, works alongside of a professional support team who are committed to offering you and your pet quality customer service and compassionate care.
Our goal is to ensure that our scheduled appointments provide you and your pet with the health support and advice required to ensure the overall wellbeing of your pet. Whether your pet is a cat or a dog or exotic in nature, including a snake, bird, rabbit, or turtles, Northland Animal Hospital provides a series of veterinarian services to provide preventative and curative care.
We have a warm and welcoming reception area. Big or small your pet is welcome to sit beside you in our spacious, pet-friendly waiting area. We recommend you keep your pet safe and secure while you wait to see a member of our caring team. That means keeping your dog on a leash, your cat in a secure carrier, and your bird in a cage. If you have a concern about waiting with your pet, do not hesitate to ask about alternative waiting room arrangements. We want your family pet member to feel as comfortable as possible while they wait. If your pet is nervous, we suggest that you bring them in to get weighed and treated to a biscuit.
Services such as routine check ups, neutering/spay, nutritional counseling, acupuncture, health and wellness vaccines, dentistry, x-rays, and alterative therapies are available at Northland Animal Hospital.